WWDA hands out the "Helping Hands Award" at the 88th Annual Chamber Luncheon
02/13/2023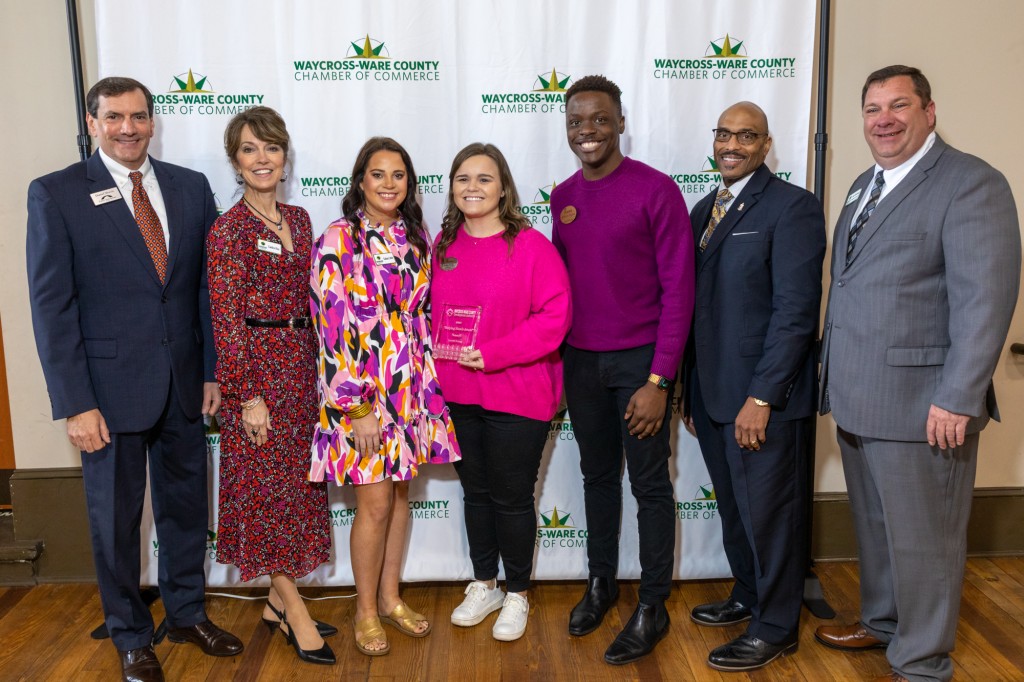 This year's recipient of the Helping hands award has been the owner and operator of his business for 20 years. He serves at Destination Church on the Finance Team and Dream Team. He has also served on the FCA board for several years. He is a Leadership Waycross class of 2022 alumni, and a Ware County Football booster member. He has sponsored many community events and nonprofit events. In his spare time, he enjoys running, learning, and teaching people how to take control of their finances. He loves cheering on the dawgs even as a 1999 Ga Tech grad. Most of all, he enjoys all of the last-minute travels his wife and girls spring on him. With that said, it is my pleasure to give the Helping Hands award to Lovett Young, Owner and Operator of Chic-Fil-A. He could not be here to receive the award, so in his honor, His Daughter Ashley Young, and Albert Flynn will be accepting it for him.
Pictured L-R: Daniel Morris, Candice Moody-Rice, Kalissa Corbitt, Ashley Young, Albert Flynn, Dr. Michael Angelo James, and Jason Rubenbauer
ADD PAGE
As you navigate our website, you can use the "Add Page to Report" button to add any page or property to a custom report that you can print out or save.